More than 40 delegates of Asia-Pacific Economic Cooperation (APEC)'s member economies took part in the APEC Youth Forum, which was organized by National Committee on Youth of Viet Nam and Ho Chi Minh Communist Youth Union in Ha Noi on August 2-4.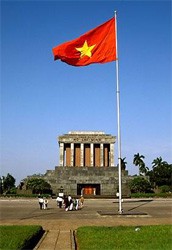 President Ho Chi Minh Mausoleum
The forum themed "APEC Youth for Sustainable Development and Intensifying Cooperation between the Youth in Asia-Pacific Region" focused on four aspects of sustainable development, including society, environment, economy and institution.

It was an opportunity for the youth of APEC's member economies to learn from each other, strengthening knowledge and contributing to friendly relations, solidarity and cooperation.
In addition, a network of the youth from APEC's member economies will be set up to exchange ideas and knowledge about the global matters, intensifying exchange of the youth in the region and promoting their positive and constructive roles.
Beside the meetings and discussions, the delegates will visit President Ho Chi Minh Mausoleum and other historic and cultural relics in Ha Noi.