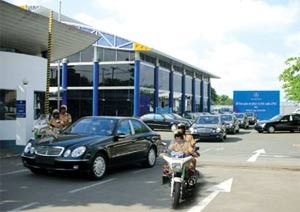 Thirty Mercedes Elegance E200K have been delivered to the Government Office.
Fourty-two locally assembled Mercedes-Benz E280 cars will be used to serve the 21 leaders from APEC member economies, who will be attending the APEC 2006 Summit in Ha Noi this November, announced the Mercedes-Benz Vietnam (MBV).
Besides, MBV will also provide 73 Mercedes Elegance E200K cars to serve other senior officials at the event.
The first 30 units were delivered to the Government Office in late May, 2006 to transport senior officials and governmental ministers during the recent SOM II (Senior Officials Meeting) and MRT (Ministers for Responsible for Trade) conferences held in Ho Chi Minh City.
The next handover ceremony is expected in early September in Ha Noi.
Mercedes-Benz E-Class sedans are widely seen among the most luxurious and safest available in Viet Nam. Since 2006, it has continuously topped the list of vehicle market segments.
APEC 2006 is the biggest ever international event in Viet Nam, and culminates with the leaders' APEC Summit to be held from November 12-19 in the capital city of Ha Noi.