Ha Noi's annual festivals will be held in association with activities to welcome the 2006 Summit of the Asia-Pacific Economic Cooperation (APEC), scheduled in November, according to the Ministry of Foreign Affairs.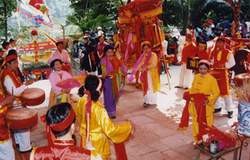 Visitors to Ha Noi can also enjoy many typical festivals in Ha Noi during the week of APEC Summit.
The capital city will hold a wide range of activities, including the Food and Drink feast and Craft Streets and Villages 2006, the Autumn International Fair, the Music Festival of Ha Noi – Asia – Pacific region, international sports tournaments and trade promotion drives, according to Ha Van Que, Director of Ha Noi's Foreign Affairs Service.
Also, the city will continue cooperating with the National Committee for APEC 2006 to prepare for the Year of APEC 2006, especially during the week of the Summit and official visits by many state leaders on this occasion, he said.
The tourism sector has listed 40 hotels of 3 stars or above with nearly 5,230 rooms to serve participants in the APEC meetings. Also, it plans to upgrade hotel rooms to ensure accommodation for the 2006 APEC week.
In the first Senior Officials' Meeting (SOM 1) on March 2, the Ha Noi Tourism Service supplied around 800 publications, including books, city maps, posters and video CDs to the participants.