U.S. Treasury Secretary Henry Paulson will travel to Ha Noi, Viet Nam to attend the finance ministers meeting of the Asia-Pacific Economic Cooperation Forum (APEC) on September 7-8.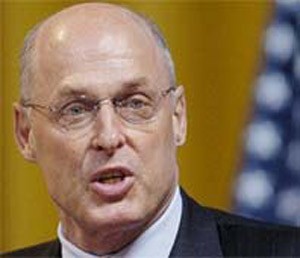 U.S. Treasury Secretary Henry Paulson
Secretary Paulson will also hold bilateral meetings with Vietnamese officials and his counterparts from APEC's 21 countries on the sidelines of the official APEC meetings.
The U.S. Treasury Department said "Secretary Paulson will use this opportunity to expand on our dialogue with the major economies in the Asia-Pacific region. He will emphasize the importance of continued economic reform, underline the importance of trade liberalization, and encourage greater efforts to thwart the financing of terrorism."
Mr. Paulson's visit will mark his first international meeting since taking over the post of U.S. Treasury Secretary from his predecessor John Snow on July 10.
APEC Summit 2006 will take place in Ha Noi on November 12-19.  
APEC's 21 members:

Australia, Brunei, Canada, Chile, China, Hong Kong, Indonesia, Japan, the Republic of Korea, Malaysia, Mexico, New Zealand, Papua New Guinea, Peru, the Philippines, Russia, Singapore, Taiwan, Thailand, the U.S. and Viet Nam.