With the 14th Asia-Pacific Economic Cooperation (APEC) Economic Leaders' Meeting fast approaching, measures to ensure complete control of the security situation have been put into place.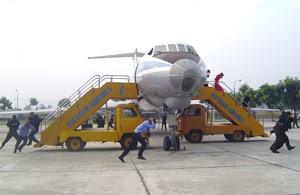 Police carry out maneuvers to release hostage from hijack
Nearly 3,000 policemen carried out maneuvers Sunday to prepare for the heightened security of the upcoming APEC meeting.
The officers reacted to some staged situations, for instance: a group of gunmen take the passengers and air crew hostage on an aircraft and demand a sum of US$50 million along with means for a safe get-away.

The police had to react to all aspects of the hypothetical situation in a timely manner.
The Minister of Public Security, Le Hong Anh, at the demonstration, requested close cooperation between police units, frequent communication from local police, and vigilance and willingness in resolving any emerging problems to ensure the protection of the APEC participants including five heads-of-state and high-ranking officials from the 21 economic members.