A mysterious disappearance of twenty tons of cashews for export was reported on Sunday at the Phuoc Long ICD Port No. 2 in Thu Duc District, Ho Chi Minh City.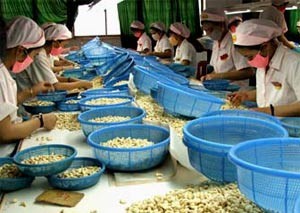 Cashews are processed before being exported
After removing the seals on two containers of cashews owned by the Hai Nam Phat Co., Ltd., customs officials and the company's director were stunned to find only 243 boxes of cashews in each container, each of which was supposed to contain 750 boxes. A total of 1,014 boxes, 20.28 tons of cashews, were lost, according to Customs documents.

Vina Control Agricultural Products Appraisal Department Head Bach Khanh Nhut said it was thanks to the diligence of staff that the incident was discovered.

Previously, on December 21, the two containers had been checked by Vina Control staff at a warehouse in the southern province of Binh Duong in preparation for their shipment to Egypt.

Only one day later, while conducting appraisal work at a warehouse in Dong Nai province, an inspector recognized some packages found on a truck as similar to those he had seen the day before. The inspector immediately contacted Hai Nam Phat and was informed the company's Egyptian client did not order cashews from any other company.

The suspect truck was then kept at the warehouse for further investigation and representative from Hai Nam Phat confirmed the goods were in fact their products. They then rushed back to the Phuoc Long ICD Port No. 2 to find 1,014 boxes of cashews had vanished from their containers, the exact amount found on the truck in Dong Nai.

Before removing seals, the two containers at Phuoc Long ICD looked intact from outside.

Viet Nam Cashew Association (VINACAS) Acting Chairman Nguyen Duc Thanh said at least five similar cases have been reported in HCMC and the southern provinces of Binh Duong, Dong Nai and Long An.

Nhut added this type of theft is occurring not only among cashew shipments but also among those for coffee and pepper.

It is reportedly highly likely that the thefts are the work of professionals as all the stolen goods were reportedly transported to warehouses in the Ba Ria – Vung Tau province before being sold to others.