Director of the Korean Fishery Trade Association (KFTA) - Choi Dug-Boo said South Korea has imported shrimps from many countries such as Thailand, Indonesia and Vietnam. Among these, Vietnam's shrimp products has accounted for 50 percent over total volume & value of shrimp imports.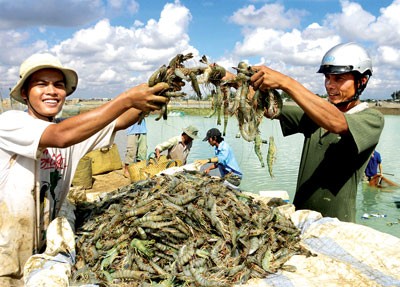 shrimp exports to Korea is expected to increase in the upcoming times -Photo: SGGP
He said at the Busan International Seafood & Fisheries EXPO 2016 (BISFE EXPO 2016)'s press meeting yesterday held by the Korean Fishery Trade Association (KFTA) & the Vietnam Association of Seafood Exporters and Producers (VASEP).
In 2015, Korea imported about 140,000 tons of seafood products worth US$ 600million, of these, the country imported 70,000 tons of shrimp, reaching US$ 240million with Vietnam being the biggest supplier of 30,000 tons.
The director expects that exports of Vietnamese seafood products to Korea will continue increasing in the upcoming times thanks to the free trade agreement between the two countries.
The BISFE EXPO 2016 in Busan is the biggest seafood & fisheries fair with the participant of over 400 enterprises from 26 countries worldwide. Vietnam has 12 enterprises.
This year's fair will take place from October 27 to 29.