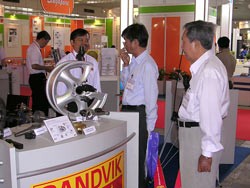 A Singaporean pavillion in the exhibition (Photo: SGGP)
The Viet Nam Chamber of Commerce and Industry (VCCI) and Singapore Exhibition Company have opened the second international exhibition (MTA Viet Nam 2006) on machine and precision engineering at Ho Chi Minh International Exhibition and Convention Center.
Four hundred companies from 29 nations and territories are taking part in the exhibition, displaying advanced technology achievements in machinery and precision engineering such as high-speed milling, model-making, experiment, measurement and high-output-but-low-cost techniques as well as application of CAD/CAM/CAE in car production, aviation, oil refinery construction, and chemical & machinery production.
The exhibition will last till March 4 , 2006.