Only few state owned enterprises have established their science and technology development funds while no foreign firms have found voluntarily do so, said delegates at a conference hosted by the Department of Science and Technology in Ho Chi Minh City on Thursday.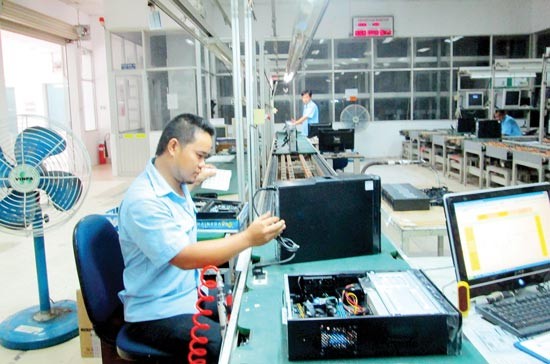 A computer manufacturer in Tan Binh Industrial Zone (Illustrative photo: SGGP)
The department deputy head Nguyen Khac Thanh said that according to regulations state businesses must establish a science and technology development fund and contribute 3-10 percent of their annual pretax income to the fund.
Private and foreign firms are entitled to decide the contribution rate which does not exceed 10 percent for the fund.
However, only 85 businesses have set up the fund by the end of last year. Of these 31 companies have contributed VND414 billion (US$19.46 million) to the fund and spent VND139 billion (US$6.51 million) for technology renovation.
At the conference deputy chairman of HCMC People's Committee Le Manh Ha said that the fund establishment is a good way for businesses to renovate their technologies and improve their production.
HCMC leaders would facilitate businesses to tackle difficulties and form the fund as well as effectively use it, he said.
In addition state owned enterprise equitization and restructuring will be boosted to reform their technologies, he added.