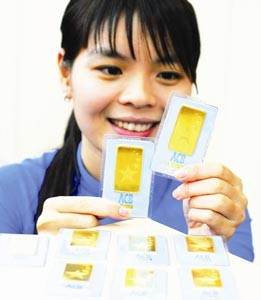 An ACB staff member introduces taels of ACB gold (Photo: SGGP)
Ho Chi Minh City-based Asia Commercial Bank (ACB) launched ACB gold in the Vietnamese market on August 12, adding one more product into the bank's network of 154 branches and unit nationwide.
All of these branches and units started trading this fine gold, which the bank produces in HCMC with an Italian production line. Materials come from Switzerland, the bank announced the same day.
Each tael of this gold bears the name of the bank, its logo, "Fine Gold 999.9", mass and the serial number. ACB gold is also available in rings of one-tenth, two-tenths and half of a tael.
At present, the most popular gold brands in the nation are SJC and PNJ-DAB. On August 12, the domestic gold price set a record low of the year, falling to VND16.75 million per tael in the morning in HCMC, as the world price dropped drastically. In the afternoon, the price of SJC gold in the city increased to VND17 million per tael due to a large number of buyers.