The Asian Development Bank (ADB) on Wednesday announced approval of a soft loan of US$20 million to Viet Nam to help small and medium enterprises.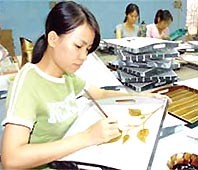 An employee of a small Vietnamese enterprise makes embroideries. The ADB is supporting SMEs in Viet Nam with a US$20 million loan.
The Small and Medium Enterprise Development Program is the ADB's first policy loan in Viet Nam, specifically designed to promote a conducive business climate by adopting market-friendly practices and eliminating policy bias against SMEs, the ADB said.
According to the Manila-based bank, SMEs account for 86% of Viet Nam's registered enterprises.
The new loan is for the second phase of a SME supporting project. The first phase, backed by a US$60 million ADB loan in 2004, has achieved results for the second phase to build on such as improving access to financing, strengthening land use rights and lowering barriers limiting SMEs' access to international market, the bank said.
The second phase is designed to continue the reforms to strengthen legal and regulatory structure, ensuring greater transparency and better governance. The new loan carries interest at 1.0% during the eight year grace period and at 1.5%, subsequently for rest of the 24 year term.

The Ministry of Planning and Investment will be the executing agency for the second phase, which will be carried out between January 2007 and July 2008.