Tra and basa catfish fillet exports by twenty-seven Vietnamese companies will not be subject to administrative review by the US, following a proposal from the plaintiff in a dumping lawsuit against Vietnamese catfish export.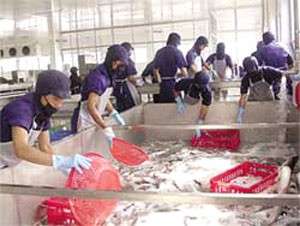 Processing catfish for export in An Giang Province
According to the Viet Nam Association for Seafood Exporters and Processors (VASEP), the plaintiff representing the US association of catfish farmers and processors in the anti-dumping lawsuit has withdrawn their request for administrative review on the 27 companies' products.
The US law firm, Akin Gump Straus Hauer & Feld LLp, has sent a letter to the US Secretary of Commerce Carlos M. Gutierrez to inform him of this move, VASEP said.
However, the plaintiff still asked the US Department of Commerce to conduct the fourth administrative review on tra and basa catfish fillet exports by other Vietnamese exporters involved in the lawsuit.
27 Catfish Exporters:

Afiex An Giang,  Agifish, Anvifish Co.Ltd,  Basa Co. Ltd, Cataco, Caseamex, Cafatex, Caseafood, CL-Fish Co. Ltd, Seaprodex Da Nang, Coseafex, East Sea Seafoods Joint Venture Co.Ltd, Gepimex 404 Company,  Hai Nam Co.Ltd, Hai Vuong Co.Ltd, Hoan An Fishery Co.Ltd, Hung Vuong Co. Ltd, Kim Anh Co.Ltd, Mekongfish Company, Nam Viet Company Limited, Ngoc Thai Company Ltd, South Vina, Vietnam Fish-One Co.Ltd, Vinh Hoan Company Limited, Vinh Hoan Corporation, Imex Cuu Long, and Vinh Quang Fisheries Corporation.