The Africa, West Asia and South Asia Market Department under the Ministry of Industry and Trade on October 14 advised Vietnamese businesses to use Irrevocable Letter of Credit opened at prestigious banks and limit deferred payment terms when trading with African customers.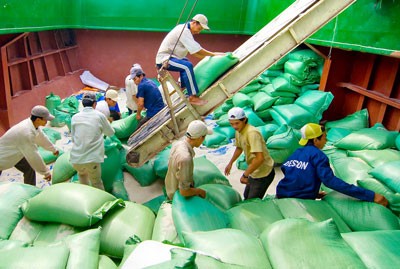 Rice bags are loaded aboard for exports in the Mekong Delta province of Vinh Long (Photo: SGGP)
The advice has been made after some exporters from the Africa received deposits from Vietnamese businesses but refused to make delivery.
Vietnamese enterprises should not agree with African customers' proposal to use Documents Against Payment term, in which exporters instruct a bank to collect money from importers, to prevent goods loss.
When importing from the Africa, businesses should inspect the goods' quality through prestigious international organizations before loading it on board.
Vietnamese companies should negotiate with African exporters in order not to leave a deposit or to minimize the deposit, and buy small volume in the first orders.
They should choose safe payment and delivery terms to prevent importers from refusing to receive goods, aiming to force them to reduce the prices. Contracts should specify a dispute settle body.
Vietnamese businesses should limit seeking for and trading with customers from the Africa via the Internet.