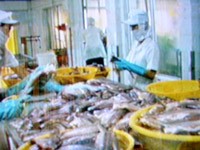 Agifish plans to export 16,500 tons seafood. (Photo: T.C)
According to Vietnam Association of Seafood Exporters & Producers (Vasep), An Giang Fisheries Import & Export Joint-Stock Company (Agifish) intends to invest VND109 billion to scale up its operation. In addition to its own amortization capital together with investment and development fund, the company will mobilize additional capital from the stock market through public issuing.
The plan includes the establishment of the brand-new Refrigeration Factory #1, relocation of the fish-powder & fish-fat processing facilities, and the construction of a refrigerated warehouse with the capacity of 3,000 tonnes.
The completion of these projects will raise the production capacity of the whole company to 30,000 tonnes/year. The company also plans to export 16,500 tonnes of seafood in 2006 to reach its target of US$42-million turn-over.
Agifish is the pioneer in the seafood industry to list on the stock market. Agifish stocks, which have received much attention from investors, closed at VND67,500 late last week (April 7).