The opportunities for Vietnamese agricultural enterprises will be tremendous after Viet Nam's entry into the World Trade Organization, and the challenges won't be so minor either. The best way for enterprises to integrate into the global trade arena is to swim by themselves, and not expect the government to buoy them up, according to many of those present at the "Vietnamese Agricultural Enterprises and WTO" seminar held in Ha Noi yesterday by the Ministry of Agriculture and Rural Development.
 
Hard times ahead for nine million producers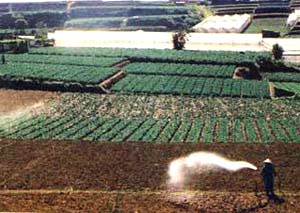 Agricultural production households will be the first affected by Viet Nam's WTO accession (Photo: T.K).
"Agricultural enterprises involved in sugarcane, livestock and vegetables will encounter plenty of difficulties when Viet Nam joins the WTO," said Chairman Le Van Tam of the Vietnam Sugarcane and Sugar Association.
 
Sugarcane enterprises' greatest shortcoming is their poor competitiveness because of the low quality yet much higher prices of their products compared to the products of other countries, he added.
 
Mr. Tam blamed the lack of suitable land for growing sugarcane, the poor yields and the low production capacity of backward sugar mills and refineries.
 
A Thai sugar mill, for example, can press 18,000-20,000 tons of sugarcane per day while a Vietnamese mill can barely manage 1,500 tons.
 
"With the present situation of the sugar industry, more mills are certain to go under after integration," Mr. Tam warned.
 
Fruit and vegetables are already facing very strong competition, even with protectionist policies, from China, Thailand and other countries near and far.

Vietnamese fruit companies will more likely lose than win when the tariff reductions come into effect.
 
Viet Nam is committed to cutting the 40 percent tariff on grapes to 20 percent when it joins the WTO and down to 10 percent after five years. Similarly, imported dried grapes will drop from 40 percent to 25 percent immediately and 13 percent later on.
 
Agreeing with this assessment, former vice chairwoman Pham Chi Lan of the Viet Nam Chamber of Commerce and Industry said, "We have to consider the WTO's impact on nine million large production households. They are important suppliers of materials and consumers of agricultural products though they have not been recognized as enterprises."
 
"These households will be the first affected by Viet Nam's WTO accession, but misfortune surely awaits state-owned enterprises too," she added.
 
The State will comply with WTO support policies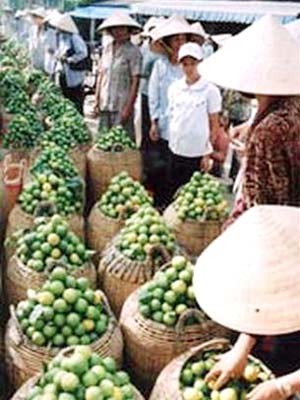 There will be a chance to reduce the prices of Viet Nam's agricultural products after the country's entry into the WTO, said U.S. Ambassador Michael W. Marine
Although there will be great difficulties and pressure, Agriculture and Rural Development Minister Cao Duc Phat stressed, only integration can give agricultural sector generally and agricultural enterprises particularly the chance to develop.
 
The reasons why are that they will have opportunities to approach a broad market of 149 countries and will enjoy lower duties and an equal footing in competition.
 
Minister Phat said that in order to minimize the negative impact and take advantage of opportunities stemming from integration, first a petition will be submitted to the Government asking for support for the agricultural sector, support that complies with the WTO's regulations.
 
Accordingly, procedures will be simplified so as not to trouble enterprises; the restructuring of agriculture-related state-owned enterprises will be sped up; equitization will be boosted; and state-owned farms and plantations will be reorganized to meet the requirements of development and integration.
 
Minister Phat announced that the restructuring of 700 farms and plantations nationwide has been completed. Land used inefficiently will be resumed and given to other enterprises or farmers, he added.
Viet Nam's agricultural products will have more opportunities…: U.S. Ambassador Michael W. Marine
 
With low import and export duties of material inputs after Viet Nam's accession to the WTO, there will be a chance to reduce the prices of the country's agricultural products and thereby improve the common welfare and allow key agricultural enterprises to develop in the future.
 
The U.S. will directly help Viet Nam improve and comprehensively develop a veterinary system to develop the breeding sector.
 
Mr. Marine said, "We also commit to cooperate with Viet Nam to build a flora protecting system, especially in the field of exporting tropical fruits to the U.S., and build a food safety system as well."