The Ministry of Agriculture and Rural Development is expecting a significant increase in volume and value in both seafood and rice exports in 2012, despite problems and setbacks in production.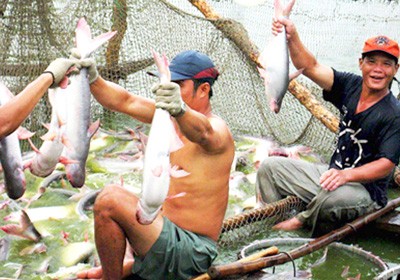 Farmers harvesting pangasius
Shrimp exports target US$1 billion
More than 3,000 workers in ten shrimp processing and export enterprises in Ca Mau Province have already resumed work since January 23, second day of Lunar New Year, so as to complete pending export orders.
The province is presently leading the country in shrimp exports and is likely to increase its production this year.
Shrimp exports in the province reached a record high of $910 million last year and the target in 2012 is expected to reach $1 billion, said a representative from the Department of Agriculture and Rural Development.
Tra fish (pangasius) exports target $1.8 billion
Pangasius exports are expected to reach $1.8 billion in 2012, said Nguyen Huu Dung, deputy chairman of Vietnam Association of Seafood Producers and Exporters.
For the first time, 24 members of a community organisation in An Giang and Can Tho are developing pangasius production in a sustainable manner on more than 28 hectares of land.
All enterprises and producers in the sector are members of a community organisation that works towards building brands and developing markets for products.
Enterprises wanting to export must meet requirements on quality as well as other criteria set by the organisation, said Dung, adding that this helped prevent unhealthy competition.
The Government itself could not effectively resolve the issues related to the development of market economy. It required a joint force of associations and alliances, he said. A community organisation can manage, supervise, discover and deal with actions that adversely affect the community and prestige of the product.
Cao Duc Phat, Minister of Agriculture and Rural Development said that the ministry will summit to the government all regulations related to veterinary, food safety and hygiene and fishery resource management to avoid an overlap in management and an inability to trace the origin of products.
The ministry will also propose to establish the Mekong Delta Pangasius Association.
Rice exports target 7.2 million tonnes
Huynh Minh Hue, general secretary of the Vietnam Food Association said that total rice exports for the year could be between 6.5 million to 7.2 million tonnes.
He said that the association will not only focus on rice volume but also rice quality as well as ensure benefits for rice farmers.
According to a representative of the Ministry of Industry and Trade, the ministry will implement some measures to ensure rice farmers can benefit by at least 30 per cent.
Ho Minh Khai, director of MTV Co Do Company, said that the company is trying to enhance rice quality and build a rice brand in the domestic and foreign market. These are measures to reduce production expenses and help farmers get benefits.
Vietnam has affirmed its position as a big rice exporter in the world with a record rice export volume of 7.1 million tonnes in 2011.
Last year, the country obtained a double success in rice exports by not only increasing export volumes but selling at much higher prices. The average export price was $494 per tonne in 2011 and the export turnover was at the highest at $3.5 billion.