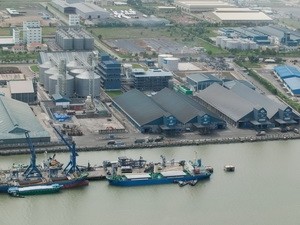 (File) Bunge Vietnam's soybean crushing plant next to Phu My Port in Tan Thanh District, Ba Ria-Vung Tau Province
American leading food company Bunge inaugurated Monday its US$100 million soybean processing facility in southern Vietnam as the country's biggest soybean crushing and oil refining plant so far.
The Bunge Vietnam plant, located in Phu My 1 Industrial Zone in Ba Ria-Vung Tau Province's Tan Thanh District, about 70 kilometers southeast of Ho Chi Minh City, started production on May 8, said Mr. Christopher White, Bunge chief executive for Asia.
Full capacity has been reached, he added.

The first phase is designed with a 3,000-ton-per-day crushing line, or one million tons of soybean a year, to turn out 600 tons of crude-degummed soybean oil and 2,500 tons of soymeal daily, Bunge said.
The facility will provide about 200,000 tons of soybean oil for the Vietnamese market and shipments to Asian countries, the American group added.
Bunge said it has been the top supplier of imported feed ingredients in Vietnam since 2002.
The country buys ingredients to make feed for livestock, poultry and fisheries such as fish and shrimp farming.
Bunge started construction of the Vietnam plant in December 2009. It is by the Thi Vai River. The site is adjacent to the Phu My Port in which the American corporation shares ownership.