The Vietnam Competition Administration Department has begun investigation into Megastar Media's alleged abuse of its position as the country's largest film distributor to benefit its own theatre chain. This follows following a complaint by several cinema owners.
After a month of preliminary investigations which finished on June 11, it decided that there is ground for a full investigation of the complaint made by Saigon Movie Joint-Stock Company (owner of Cinebox Hoa Binh cinema), Saigon Movies Media Joint-Stock Company (Saigon Media), Thien Ngan Studios (Galaxy), and Media 212 Joint-Stock Company (Cinebox Ly Chinh Thang).
They complained that Megastar has increased the cost of foreign films from half the ticket price earlier to a flat VND25,000 per ticket now if a buyer screens a film at the same time as Megastar.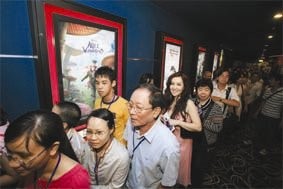 (Files) Moviegoers queue to buy tickets at a Megastar Cineplex in Ho Chi Minh City (Photo: Le Toan)
At these rates, they said, the lower end cinemas, which price their tickets at as low as VND25,000, can never make a profit.
However, the department declined to accept the complaints of Dong Nai Film Distribution and Screening Company and Hanoi Movie One-Member Limited Company saying they have not screened imported films at the same time as Megastar.
Megastar, owned by a joint venture between Vietnam-based Phuong Nam Corporation and Envoy Media Partners Limited of the British Virgin Islands, operates cinemas in several major Vietnamese cities.
Under the Competition Law, the investigation should be wrapped up within 180 days, with two extensions of 60 days each allowed.