The Asia Commercial Bank has started providing loans for those who want to buy Riviera villas along the Sai Gon River in Ho Chi Minh City from leading Singapore property developer Keppel Land.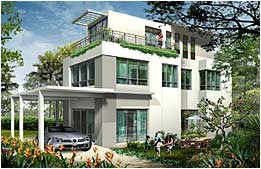 An artist's impression of a Riviera villa
Homebuyers must put up their homes as collateral for the loans, which have the longest term of 10 years and cover 70% of the price at the highest.
Mr. Ly Xuan Hai, CEO of the Ho Chi Minh City-based bank, said ACB targets families and private companies that can afford to interest.
The monthly interest rate for the first year ranges from 1.08% to 1.19%, and will be adjusted in the following years based on the bank's interest rates for deposits.
Villa Riviera is a six-hectare gated waterfront of 101 villas in An Phu Ward, District 2, with plot sizes from 300 to 550 square meters, and complemented with resort style facilities.
The site is located in a well-established residential area just 15 minutes' drive from the central business district. The surrounding area is popular with the international community and the upper income locals, close to the International Grammar School, British International School and the foreign-developed Parkland and Riverside serviced apartments.
Villa Riviera is jointly developed by Keppel Land (90%) and Viet Nam's Hiep Hoa Phat Company (10%).
Related link
Related article