The Australian Chamber of Commerce (Auscham) has started this year's Australian Business Awards program for Australian and Vietnamese companies, as well as Vietnamese individuals.
Launching the program on October 6 in Ho Chi Minh City, Auscham chairman Andrew Currie said, "The business links between Australia and Vietnam reflect the strong, vibrant and growing relationship between the two countries. The contribution of the Australian business community to Vietnam needs to be recognized and encouraged, and this event gives us the chance to do just that."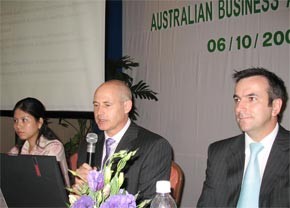 James Myers (C) introduces the Australian Business Awards (Photo: Tuong Thuy)
James Myers, Australian commercial counselor in the city and an Auscham executive, said the prizes are Business Innovation Award, Manufacturing Award, Austrade Importer Award, ANZ Business Excellence Award, Foster's Hospitality and Tourism Award, Auscham Young Starters Business Grant, and Community Award.

The Hospitality and Tourism Award, sponsored by the Australian beer brand Foster's, appears for the first time in the annual program, which Auscham kicked off in 2003.
Meanwhile, the Auscham Young Starters Business Grant is in the second year. It will be awarded to a Vietnamese aged between 18 and 30 who has a business dream or concept. The cash prize of US$5,000 will be handed out as seed funding based on the originality of the idea, the enthusiasm and commitment of the applicant, the sustainability and financial viability of the business concept and potential or actual Australian business linkages. In-kind prizes for runners-up in this award category will also be awarded.
Auscham will organize the award ceremony at the New World Hotel Saigon on December 1.
Applicants are required to complete the application form, available at the Auscham office on the third floor of the hotel. The application form must be completed and returned to the Auscham offices in Ha Noi or Ho Chi Minh City by October 31.