The Ministry of Industry and Trade has estimated the country will spend more than US$1 billion importing automobiles this year.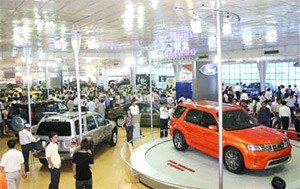 The import volume of complete cars rise sharply in year-end months
Imports of complete cars are estimated to reach US$372 million, annual growth of 52 percent.
 
The import volume of complete cars has risen sharply with year-end reductions in car import tariffs that have surpassed Viet Nam's WTO tariff-reduction commitments.
The ministry forecasts imports of complete automobiles will continue to increase rapidly in 2008, exceeding this year's imports by US$431 million, an increase of some 16 percent over this year.