A five-day seminar started Monday in Ha Noi focusing on banking reforms in Viet Nam as the country is moving toward a World Trade Organization member, expecting to join the WTO early this November.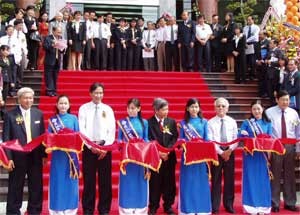 VIPs cut the ribbon to inaugurate the new headquarters of the Eastern Asia Bank, a leading commercial bank in Viet Nam, this July in Ho Chi Minh City (Photo: Tuong Thuy)
Aimed at providing policy advice to financial regulators, the Asian Development Bank-backed seminar addresses the need to make the banking sector more market-oriented and competitive in a changing environment.
The workshop on challenges for financial regulators in a changing environment is co-organized by the ADB's Public Policy Training Program and the State Bank of Viet Nam.
Attending are 45 officials of the central bank, the Ministry of Finance, Ministry of Planning and Investment, and a number of commercial banks.
The seminar is discussing how State-owned commercial banks will become more market-oriented, private domestic banks can develop, and foreign banks would be allowed to play a less-restricted role.
It will also be an opportunity to share international experience of the financial regulatory and supervisory authorities in managing structural changes. Delivering presentations are senior experts from Viet Nam, Asian countries and international organizations.
The Public Policy Training Program is executed by the ADB and receives strategic guidance from an advisory committee chaired by Mr. Cao Viet Sinh, Deputy Minister of Planning and Investment.
Related article
Three State Banks Get Nod to Go Public