The Ho Chi Minh City-based Asia Commercial Bank (ACB) on April 24, 2006 increased its interest rates for US dollar deposits with terms from three to 36 months.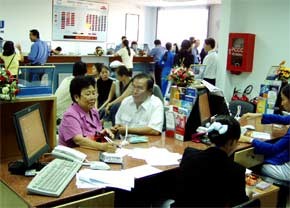 Transactions at the Asia Commercial Bank in Ho Chi Minh City (Photo: Tuong Thuy)
Compared with the interest rates offered early this year, the new annual rates have upped by 0.35 to 0.85 percentage points.
The annual rate for three-month savings rose from 3.3% to 4.0%, that for six-moth savings from 3.7% to 4.15%. The rate for 12-month savings increased from 4.1% to 4.55%, and that for 36-month savings from 4.35% to 4.7%.
Besides, when depositing from a lump sum of US$5,000 to US$60,000 in one go, the depositors will get a bonus interest rate of 0.1% to 0.162% per year.
By the end of March 2006, the bank put its total deposit at about VND25.2 trillion (more than US$1.58 billion) and its total loans at VND10.17 trillion (more than US$639.7 million).

Related article
ACB Expands Banking Network

Link
ACB