Ho Chi Minh City-based Asia Commercial Bank (ACB) received a Citibank performance excellence award for global electronic payments leadership and excellence on June 22.
Gary Chan, director of Citibank Ho Chi Minh City Branch, presented the award to ACB representative Do Minh Toan.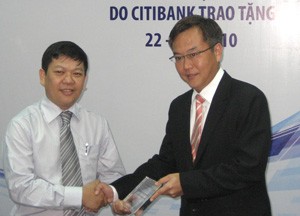 Citibank's Gary Chan (R) presents the 2009 Citi Performance Excellence Award to ACB's Do Minh Toan on June 22, 2010 (Photo: The Anh)
Mr. Chan said, "The prestigious Citi Performance Excellence Award is presented to leading financial institutions worldwide which have state-of-the-art international Straight Through Processing electronic payment services and meet stringent correspondent banking and processing accuracy criteria."
He added that this award formally recognized and acknowledged the top financial institutions in each region based on their straight through processing rate and yearly volume in 2009.
About 200 leading financial institutions worldwide got the award this time, Mr. Chan said.
For 2009, a total of 36 Asian banks received this award, with ACB being the only bank in Vietnam to secure it, he added.
The Citibank source said ACB was among banks that achieved a straight through processing rate of 95% and higher."
STP is an automated process of payments without manual intervention which increases processing speed, minimizes routing errors, lowers operations and transaction costs while resulting in efficient, rapid payment execution and credit for the bank and the customers it serves.