The Asian Development Bank has approved a $135 million loan program to support the development of Viet Nam's capital markets, ADB announced on Friday.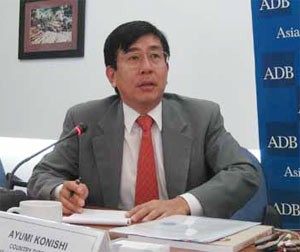 Mr. Ayumi Konishi, ADB's Country Director for Viet Nam 

"There is a need to foster a diversified financial sector in Viet Nam to sustain high investment and growth by developing the capital markets," Pradeep Srivastava, an economist for regional cooperation of ADB's Southeast Asia Department, said in the announcement.

The bank says the financial sector in Viet Nam remains underdeveloped, inefficient and fragmented. The banking system still dominates the sector and is limited in its ability to transform its short-term liabilities into long-term financing. While domestic savings rates are high and are likely to continue to improve, and foreign direct investment into the economy is increasing, the ability to sustain economic growth will require increased financial intermediation and improved efficiency.

This lending program will comprise two subprograms, the first of which will be supported by a $75 million loan. The financial sector development and reform agenda of the entire program is structured around four components: enhanced market liquidity by lowering transaction costs; an improved institutional framework for securities issuance; stronger investor and consumer protection; and improved regional cooperation in securities market regulation.

After 30 months, ADB will evaluate the first part of the program before authorizing continued funding.

According to Ayumi Konishi, ADB's Country Director for Viet Nam, the program is expected to increase the capital markets' share of domestic investment financing, make resource allocation more efficient and the macroeconomic environment more resilient to external shocks. The program is also expected to support government efforts to promote greater regional cooperation by cultivating synergies with regulators of other securities markets in the region.

The loan program supports the Vietnamese Government's Socio-Economic Development Plan 2006-2010, which not only targets a middle income status for Viet Nam by 2010, but industrial country status by 2020.