The State Bank of Vietnam began sending credit growth quotas to classified banks after the Governor issued Instructions 01 to allocate credit growth quotas to credit institutions.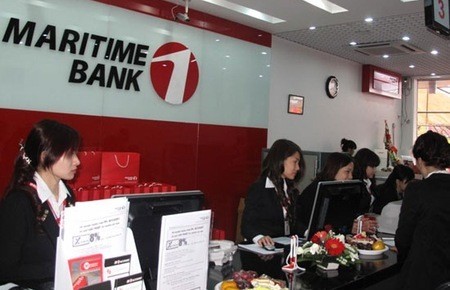 Maritime Bank is allocated credit growth of 17 per cent.
Accordingly, the three groups including Group 1 (healthy banks), Group 2 (average banks), and Group 3 (below average banks) will be allowed credit growth rates of 17 per cent, 15 per cent and 8 per cent, respectively. Group 4 (weak banks) which are not allocated any credit growth rates should be restructured.
Group 1 includes Maritime Bank, Vietnam Prosperity Bank (VP Bank), Vietnam International Bank (VIBank), and Southeast Asia Bank (SeaBank). Nam A Bank and Dai A Bank belong to Group 2.
Although Asia Commercial Bank (ACB) has not been classified to any group, one of its leaders believes that his bank will be allocated credit growth rate of 17 per cent.
After receiving credit growth quotas, the above banks said that they have planned lending for this year.
According to Maritime Bank, in the document the central bank sent to lenders, the state bank said that the quota of 17 per cent was determined based on the lenders' operations and the credit institutions' credit growth capacity. Maritime Bank said it built a plan to control credit growth below 17 per cent all year long. While VP Bank said that although it belongs to the healthy bank group, its current lending proportion to non-manufacturing sectors has reached nearly 16 per cent. Thus, it will not promote personal loans for the rest of this year.
Meanwhile, Nam A Bank said it will focus on giving loans to small and medium businesses, and approve proposals for loans below VND10 billion.
Currently, only banks belonging to Group 1 and 2 announced their allocated credit growth quotas while Group 3 and 4 remained silent. An expert from the Banking University of Ho Chi Minh City said that the names of weak banks will be revealed as soon as the central bank announces healthy banks. The number of weak banks is expected to be huge as just a few banks announced that they belong to Group 1 and 2 at this time.
In related news, Vietnam Bank for Agriculture and Rural Development announced that it will lower Vietnamese dong lending interest rates by 1-1.5 per cent per annum, starting February 22. It will apply an interest rate from 14.5 per cent to 16.5 per cent per annum for short-term loans; from 17 per cent to 18 percent for mid-term loans; and 19 per cent for long-term loans.