Over the past week, the State Bank has kept the prime interest rate at seven percent and the maximum lending interest rate (except interest rates for personal loans) at 10.5 percent a year. Meanwhile, commercial banks have raised their interest rates for dong deposit accounts.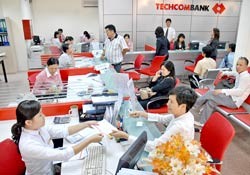 Customers at a Techcombank branch, HCMC (Photo: SGGP)
Saigon – Hanoi Bank invited depositors with interest of up to 9.3 percent per year, for a limited term of 36 months.
Maritime Bank was more attractive with rates of 9.5 percent per year for a 36 month term, and nine to 9.3 percent per year for shorter terms of 18 to 24 months.
At An Binh Bank, the interest rate was over nine percent per year for deposits over 24 months. For 36 month and 60 month terms, it was 9.4 percent and 9.5 percent per year respectively.
Customers who deposit very large amounts may also qualify for a top rate of 9.7 percent a year.
Other large banks, such as Dong A, ACB and Techcombank, have also raised deposit interest rates.
From May 23, Techcombank increased deposit interest rates for all terms, with deposits of over VND3 billion (US$176,000) receiving 9.1 percent per year for a 36 month term.
ACB Bank also moved up all its interest rates, with its highest rate of 8.75 percent for 36 month term.
Reasons for interest rate increases
The general director of Sacombank, Tran Xuan Huy, said that the medium and long term capital of the bank was still stable. The bank has also received long term loans from international financial organizations with preferential interest. However, the bank needed to slightly raise the deposit interest rate to cover the increase in loans.
According to the deputy general director of AB Bank, Pham Quoc Thanh, the bank's capital in the middle of May had moved up by 26.76 percent due to interest rate increases.
AB Bank raised interest rates to prepare capital for medium and long term demands, he added.
Another reason making commercial banks raise the deposit interest rate is to compete with the stock exchange. The stock market has become hot and attracted a lot of depositors, the deputy general director of PG Bank, Truong Van Huynh, said.
The general director of Lien Viet Bank, Nguyen Duc Huong, said that his bank increased the interest rates to increase the capital in case of increased inflation.
Capital demand may outstrip supply in future, he added.
Duong Thu Huong, general secretary of the Vietnam Bank Association, said that the liquidity of commercial banks is currently very good, the deposit interest rate increase and credit growth are good signs of an improving economy.
Many commercial banks have also introduced promotions to attract depositors. For example, if customers deposit large amounts of money in long term accounts, banks would provide a promotional interest rate.

Commercial banks are also attracting customers with gold, cars, laptops, motorcycles and TVs.