Banks in Ho Chi Minh City have prepared many measures for sufficient cash supply at ATM locations, especially in industrial parks and export processing zones, to meet surging cash withdrawal demand on days near Tet when many people return home for Tet celebration.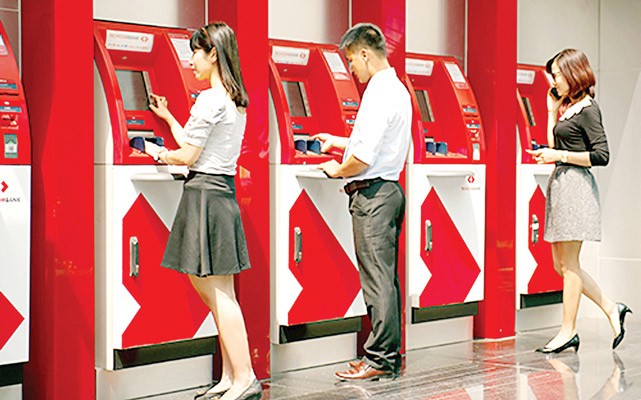 An ATM location in HCMC (Photo: SGGP)
Because Vietnamese are still in cash use habit, the number of customers at ATM posts has been high especially at yearend when many withdraw wages and bonus for Tet travel and spending.
Mr. Le Huynh Ha, head of Vietcombank's ATM Service Management Department in HCMC reported sudden withdrawal increase at ATM posts last weekend. So they have doubled or tripled staff on duty, cash transport cars and volume at ATM locations to meet workers' demand.
However they are just able to ensure enough cash and timely handle machine breakdowns not do anything to solve the condition in which workers wait in long queues in front of ATM posts, he said.
So it has worked with the Management Board of HCMC Export Processing Zones and Industrial Parks (EPZs and IPs) to propose workers not to withdraw cash at the same time to prevent overloading.
Mr. Duong Ngoc Minh, deputy director of ATM and POS Center of Dong A Bank said they would supplement two mobile ATM trucks comprising four machines each at EPZs and IPs, and work with trade unions of enterprises with a lot of workers to pay wage and bonus in cash to reduce pressure on ATM service.
Mr. Nguyen Hoang, director of OCB Bank's Credit Card Center, suggested banks to provide ATM machines with large value cash to prevent workers from doing transactions many times.
According to banks, February 2-5 will be peak withdrawal time when the number of customers at ATM locations will rocket up causing overloading. So they advised customers withdraw money before and after this period and avoid doing that from 5-8 p.m. everyday. Shoppers should option POS payment at supermarkets and trade centers.
Statistics from the State Bank of Vietnam show that HCMC has 9.9 million bank cards domestically and internationally now, up 9.3 percent over 2014. Of these, ATM cards reach 7.7 million accounting for 77 percent of the total and up 3.5 percent over 2014. There are 4,180 ATM machines in HCMC now, up 147 ones over 2014.