Some commercial banks began to adopt the government's policy on four percent loan subsidies for companies on Thursday.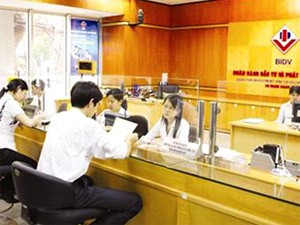 Transactions conducted at a BIDV branch
According to the policy, businesses will receive the interest rate for up to 12 months when applying for loans or receiving disbursed loans at commercial banks from February 1 to December 31,
 
The Bank for Investment and Development of Vietnam (BIDV) has sent guidelines on the policy to all of its branches.
 
Tran Bac Ha, BIDV chairman, said credit contracts that have been signed from February 1 will be subsidized.
 
The bank expects to provide qualifying companies with loans totaling VND65-68 trillion this year, VND2.5-2.8 trillion ($143 – 160 million) of which will be subsidies and account for 15 percent of the government's stimulus package.
 
The Asia Commercial Bank (ACB) said on Thursday that it would use VND35 trillion to provide loans, especially to producers and traders of export goods, to stimulate investment, production and businesses this year.
 
After receiving the four percent subsidy, the lowest lending rate applied to individuals is six percent, business rates at 4 - 5.5 percent, and exporters might receive 1.2 -2 percent but on a condition that they will sell foreign currencies to the bank.