Banks' credit limits granted to businesses are superfluous because they have no need of loans regardless of low interest rates, reported the banks at a meeting on the monetary market in Ho Chi Minh City on October 13.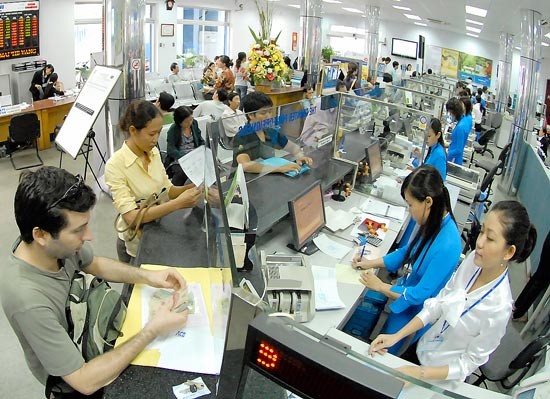 (Photo: SGGP)
The meeting was attended by the city National Assembly Delegation, the State Bank of Vietnam in HCMC, credit institutions and businesses.
Deputy Director of the State Bank in HCMC Nguyen Hoang Minh said that loan interest rates were quite reasonable and several banks had provided preferential loans at the interest rate of only 6-7 percent a year.

However, enterprises have never been unmindful of bank loans as present, according to Secretary General of the HCMC Union of Business Associations Nguyen Phuoc Hung.
Only tens out of thousands of businesses in a recent questionnaire survey by the association are in need of loans.

Director General of Vissan Company Van Duc Muoi said that businesses have been afraid of getting loans to broaden production and trading because of general difficulties in the market and fallen purchasing power.

Meantime, a number of small enterprises have been self-sufficient in capital and have no need of loans. Some others are uninterested in the bank capital because they are unable to meet mortgage conditions.
Several banks have admitted that they more need businesses than the businesses need them. The banks are continuing efforts to improve the credit growth.
Mr. Do Minh Toan, deputy director general of ACB bank, said that the bank's credit growth reached 7 percent in the first nine months while loans to businesses accounted for only 2 percent.

VietCapital Bank's loans to businesses occupied less than 20 percent of its total liability of VND11.4 trillion, said director general Do Duy Hung.
Eximbank has provided loans at the interest rate of 7.5-8 percent per year and even as low as 5 percent on three months term but still found it hard to lure enterprises, said deputy director general Nguyen Quang Triet.
Reporting about bad debts, Mr. Nguyen Hoang Minh said that the deep debt ratio increased rather quickly in the first nine months 2014.
It reached 4.59 percent equivalent to VND44.7 trillion early this year and rocketed to 6.1 percent equal to VND69.9 trillion by the end of August. Financial and financial leasing companies saw the highest number of bad debts.
The most increase was in June when a new circular on debt classification took effect. It was VND13.8 trillion.