The State Bank of Vietnam (SBV) March 1 ordered credit organizations to reduce the proportion of outstanding loans made to non-manufacturing sectors to 22 percent by June and 16 percent by the end of the year.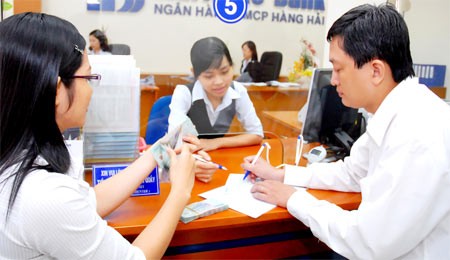 Transactions conducted at a Maritime Bank branch in Ho Chi Minh City (Photo: SGGP)
Should they fail to reduce the proportion as scheduled, they will be forced to double their compulsory reserves.
This measure is part of SBV's move to curb inflation, stabilize the macro-economy and ensure social welfare in line with the Government's plans.
Nguyen Van Giau, governor of the Central Bank, said that to implement monetary policies tightly and prudently, credit organizations must closely monitor the credit growth and adjust the credit structure.
He said loans for non-manufacturing activities will be reduced to 16 percent from 18.7 percent by the end of 2011.
Under the new measure, commercial banks have to prioritize lending for manufacturing, agricultural production, rural development, small and medium sized enterprises, industries and exports, while effectively limiting new consumer loans or lending for real estate and securities investment.
To support commercial banks, the SBV will adjust the risk contingency ratio and other safety ratios so that credit flow is directed to crucial production and business activities.
Yesterday, the State Bank reminded commercial banks to target overall credit growth of less than 20 per cent this year, requiring any banks unable to meet such a target to report to the central bank for evaluation of the need for a higher target.
Last year, credit growth reached 27.65 percent, overshooting the target of 25 percent and pushing outstanding loans to 140 percent of gross domestic product.
Credit growth rose in the first two months of this year to 3.4 per cent since the end of 2010.
The State Bank also ordered commercial banks to strengthen internal auditing, add to their risk provision funds, monitor bad debt ratios and avoid making loan swaps to cover bad debts.
Other measures that the Government ordered to reduce the growth in the money supply and ease inflationary pressures include stabilizing foreign exchange and gold markets and reducing dependency on the dollar economy by restricting price quotation and trading of goods in US dollars.
Credit interest rates will be controlled to stay at appropriate levels to raise the value of the Vietnam dong and curb the trend of borrowing in foreign currency instead of in dong.

The SBV will take measures to make credit organizations switch from mobilizing and lending in foreign currency to buying and selling foreign currency.
The SBV will also adjust the lending mechanism for foreign currency based on the principle that loans in foreign currency will serve only essential production and services sectors, which in turn earn foreign exchange from their business and production activities.
Essential measures will be taken to encourage organizations and individuals, especially economic groups and State-owned corporations to sell foreign currency to banks when they have and banks will sell foreign currency to them when they demand for reasonable purposes.
 
The Central bank will also apply strong measures to tighten control of the gold market, choose some enterprises as key gold importers, stabilize gold prices, and gradually stop the retail trade of gold bars in the unofficial market.
Mr. Giau said his bank will coordinate with relevant ministries, agencies and district People's committees to prevent gold smuggling and illegal trade in gold and foreign currency.
It is estimated that hundreds of tons of gold are now held in private hands, putting pressure on the foreign exchange market.
A shutdown in the trade of gold bars would be done at reasonable stages to minimize the negative impact on the economy and ensure the interests of the public, he said.
He added that people will still be able to keep gold jewelry and process gold products.