Many issues related to the Government's subsidized loan program and the foreign exchange markets were discussed at a meeting between banks and business leaders in Hanoi on May 16.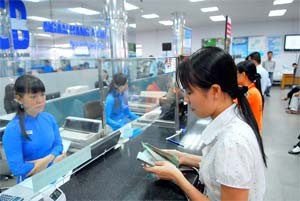 Customers at a branch of the Asia Commercial Bank. The SBV had a meeting with business leaders on May 16 to discuss monetary issues. (Photo: SGGP)
The meeting was called to deal with problems arising between banks and businesses.
Dr. Vu Tien Loc, chairman of the Vietnam Chamber of Commerce and Industry, said that the State Bank of Vietnam (SBV) has adopted policies that are suitable to the economic climate, and effectively implementing the Government's economic stimulus package, including the subsidized loan program. 
However, he said, procedures to access such packages remained complicated, causing problems for businesses.
It is necessary to simplify procedures to create conditions for businesses, especially small and medium sized enterprises, to get subsidized loans, he added.
Nguyen Ngoc Bao, head of the SBV's Department of Monetary Policy, said the current balance of outstanding loans made under the subsidized loan policy amounted to nearly VND292 trillion (US$16.4 billion), of which short-term loans accounted for over VND282 trillion.
The subsidized loans have resulted in positive results. In HCM City, the policy has reportedly helped businesses cut expenses on loan interest by 36.6 percent and product cost by 2-4.65 percent, Mr Bao said.
Replying to a proposal to apply interest subsidy to medium and long-term loans made before the policy was put into action, he said that loans made before February 1, 2009 would not be supported by the policy.
In response to a company's representative who said it is not advisable to require businesses to pay off their old bank loans before they get new subsidized loans, the governor of SBV, Nguyen Van Giau, explained that before getting new loans, businesses are encouraged to repay old loans in full before the maturity date.
Many businesses said they were facing many difficulties in buying US dollars to make payments in trade. They said they had to wait for three to seven days to be supplied dollars and in many cases they could not get the amount they needed. Some have even had to buy dollars on the black market, they added.
Some business leaders also complained that some banks require businesses to pay a deposit before buying dollars.
To resolve these issues, Nguyen Quang Huy, head of the SBV's Foreign Exchange Management Department, said that the bank has issued six regulations on the foreign exchange markets, including one regulation on strict punishment for violations of foreign exchange management.
Nguyen Van Tan, director of Thong Tan Trade and Food Processing Company, said that many companies got loans in dollars from banks for buying goods for export, but when receiving payments in Euro from its customers, they could not use Euro to pay for loans in dollars because banks do not have a mechanism for such conversion.
As a result, somes companies had to sell Euro on the open market to get dollars to repay bank loans, Mr. Tan said.
In response, Mr Giau said he had asked the department to issue regulations for businesses to be able to make such payments.