Commercial banks began to reduce lending interest rates yesterday after the central bank cut the prime rate by 1 percent point.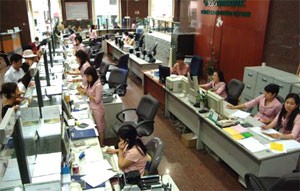 Transactions conducted at a Vietcombank branch in Ha Noi
State-owned giant Vietcombank reduced its lending rate to 18.5 percent per annum from 19.5 percent.
 
The Bank for Agriculture and Rural Development (Agribank) cut lending rates for manufacturers and small and medium enterprises.
 
The rate is now 16.5 percent for the former, down 4.5 percent since the beginning of the year, and 16.8 percent for the later.
 
LienVietBank yesterday said it is cutting lending rates to 17 percent for long-time clients, farmers, seafood processors and exporters, and purchasers and exporters of agricultural products.
 
Le Dac Son, general director of the Vietnam Bank for Non-state Enterprises (VPBank), said most banks would soon cut the rate to 18 percent, and to 17 percent in the longer term.
 
The central bank's decision to cut the rate would help decrease costs for enterprises and revive the frozen real estate market, Mr. Son said.
 
But several banks have yet to cut their rates, saying they need to consider carefully before making appropriate cuts. Most joint stock banks have only reduced interest rates on deposits.
 
Commercial banks charge 19.12-20 percent per year for short-term loans, and 19.7-20.3 for medium- and long-term loans.
 
But with the prime rate reduced to 13 percent, banks are prohibited from charging more than 19.5 percent.
Related article:
Prime Rate Cut Could See Lower Lending Rates