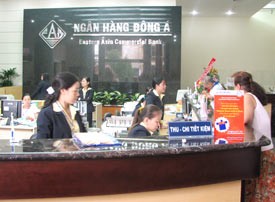 EAB inaugurates new headquarter and automatic banking center in Q3-2006. (Photo: T.C)
In Viet Nam's coming economic integration, one of the advantages of Vietnamese banks in negotiation with foreign partners is the widespread network of branches. This is the reason why banks have been expanding their branches nationwide.
A few months after Ha Noi's Toserco building completed its construction, many banks' logos have appeared on it. The first was the Vietnam International Commercial Joint-stock Bank (VIBank), whose Ba Dinh branch was quickly relocated on the 1st floor of the building from its previous office nearby. Then the Ha Noi branch of the life insurance company ACE Life and the Global Commercial Joint-stock Bank (G-Bank) opened their offices there. Most recently was the Military Commercial Joint-stock Bank (MB) that opened its trading office and securities company in the building.
Not only buildings with beautiful locations attract banks but also areas with large population. In the streets of Bach Mai – Truong Dinh crowded with residents in Hoang Mai and Hai Ba Trung districts, bank offices are in close proximity to one another. Opposite Mo market (Bach Mai) are several offices of banks. New resident areas around the city are also a target of banks as there are even buildings with 3 different banks "living together" on its 1st floor. It seems that people in such areas can have access to a bank more easily than to a certain merchandise.
In expanding banking network, it seems that no bank wants to be left behind, from state-own banks to urban commercial banks, which have just been upgraded from rural banks, such as An Binh Commercial Joint-stock Bank (ABB) or G-Bank.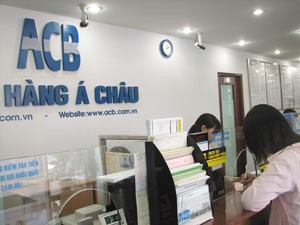 ACB expanding branches in order to maintain the quality of services. (Photo: T.C)
Even the Asia Commercial Joint-stock Bank (ACB), which previously was pretty heedful in expanding branches to maintain the quality of service, is accelerating its expansion. By the end of the year, ACB will open a few more offices in Ha Noi, said Mr. Huynh Quang Tuan – the ACB Ha Noi Branch's vice director. ACB and Sacombank (the Sai Gon Thuong Tin Commercial Joint-stock Bank) are the two largest commercial joint-stock banks with the extensive network of hundreds of branches and offices nationwide.
According to Mr. Le Dac Son, general director of the Vietnam Joint-stock Commercial Bank for Private Enterprises (VP Bank), one of the characteristics of Viet Nam's banking is to "serve at place"; therefore, bank offices, which close to businesses' headquarters and places of residence, will boost the number of customers, the deposits and banks' operation. An advantage of domestic banks over foreign banks is the network of branches and market experience. This also explains why domestic banks continue to open new branches. VP Bank, in particular, is expected to open 10 – 15 new branches by the end of the year, raising its network to 50 branches.
Banks not only focus their operation on large cities but also are setting up offices in many provinces, which previously existed only state-own banks. The State Bank of Viet Nam (SBV) has just allowed several joint-stocks banks to open branches in many provinces and cities: VIBank opens its branches in Hai Duong and Hung Yen; ABB sets up its in Da Nang and Binh Duong; and MB established its in Can Tho city.
Opening more branches is essential for many banks at the moment, but it will obviously lead to increasing competition. This will benefit customers but banks will, as a result, face the issue of lacking in sufficient human resources, from expert staffs to top executives, which are already scarce.
Related Articles:
Cap on Foreign Ownership of Banks Stays Put at 30%
Many Banks Open Securities Companies
International competition: What Local Banks Need to Do to Navigate Choppy Waters
Opening financial, banking service markets post-WTO: Enhancing Competitiveness Key to Local Banks' Success
The Banking Industry on the Eve of WTO Accession: Forming a Transparent Finance – Banking System and Coming Closer to the Stock Market