The State Bank of Vietnam's Decision to increase the VND/USD exchange rate by 1 percent since June 19 will contribute to boost exports in the second half 2014, said Head of the Department of Monetary Policy Nguyen Thi Hong.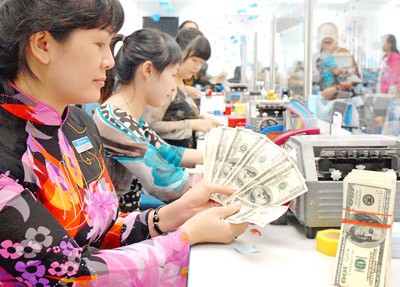 VND/USD exchange rate is increased by 1 percent on June 19 (Photo: SGGP)
In the first five months this year, the monetary and forex markets were stable, according to Ms. Hong. The State Bank purchased over US$10 billion increasing forex reserve to the record high of US$35 billion. 
Exports grew 15.4 percent resulting in trade surplus of US$1.6 billion. The exchange rate increase will boost exports in the second half whereby assisting economic growth to obtain defined targets. 
The exchange rate adjustment will create conditions to stabilize forex market, ensure liquidity and meet the economy's legal demand of foreign currencies. 
Directions of the exchange rate management have been put forward by the State Bank since the beginning of the year to prevent businesses and banks from being passive in building their business plans. 
Banks were found intensify selling foreign currency to the State Bank in the first months. 
The State Bank will continue initiative and flexible management of the monetary policy in accordance with fiscal policies to put inflation under control, stabilize the macro economy and ensure safety for credit institutions in the rest months this year. 
On June 19, the State Bank adjusted the average interbank exchange rate from VND21,036 to VND21,246 per US dollar, an increase of 1 percent. 
With trading band of +/- 1 percent, compared to the average interbank exchange rate, ceiling and floor levels will be VND21,458 and VND21,034 per US dollar respectively.
Related article: