In the past year, high interest rates had forced several businesses to walk on thin ice, or even run at a loss and face bankruptcy, but with the very first signs of interest rate cuts, local firms hopefully will have a better chance in resurrecting their operations.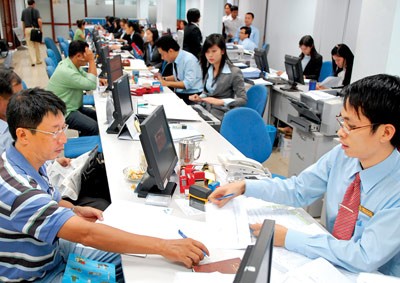 Enterprises welcome lending interest rate cuts. (Photo: SGGP)
Joint Stock Commercial Bank for Foreign Trade of Vietnam or Vietcombank has lately decided to lower lending interest rates with an average cut of 2 per cent per annum, starting February 9. Particularly, it cut lending interest rates in Vietnamese dong for short-term trade, and service loans to 17 per cent per annum, short-term manufacturing loans to 16.5 per cent per annum, and short-term export loans to 16 per cent per annum.
Earlier, Bank for Investment and Development of Vietnam announced interest rate cuts for short-term loans in Vietnamese dong to 14.5-15.5 per cent per annum, starting from December 19, 2011 to support export, agriculture and rural development, and small and medium businesses. This was the fifth consecutive time in the last four months in 2011 that BIDV lowered Vietnamese dong lending interest rates.
Vietcombank and BIDV have become the first two big lenders leading in interest rate cuts to help local businesses. In the situation when several firms are struggling with high interest rates, this movement of lenders is expected to help ease the burden that firms have been carrying for more than a year.
Preliminary estimates show there are around 570 companies out of 694 companies listed on two stock trading floors which had already released their financial reports for the fourth quarter of 2011. Of which, 55 companies suffered losses, while 60 per cent of them saw a slump in profits.
Real estate companies are the typical business group that suffers high bank interest expenses. For instance, Sacomreal's interest costs on separate financial report in 2011 reached VND250 billion while net revenue was just around VND532 billion. Meanwhile, accumulated loss of Kinh Bac City Development Share Holding Corporation (KBC) was more than VND52 billion in 2011. The company's interest expenses surged to VND252.5 billion, whereas net revenue was VND88 billion. In reality, some firms bore much higher interest costs than what showed on their financial reports. This showed that high interest rate is truly a horrible burden that enterprises have had to carry for a long time.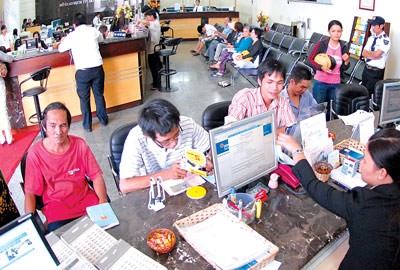 Businesses will have more chances to revive their operations after banks lower lending interest rates. (Photo: SGGP)
In a resolution promulgated on February 8 this year, the government has entrusted the State Bank of Vietnam to collaborate with relevant units to implement measures to support and encourage financial institutions to set priority of capital to some sectors and find some solutions to improve liquidity of the banking system in the first quarter of this year. The government also ordered the central bank to closely watch the situation in order to instantly reduce credit interest rates at a reasonable level at a suitable time.
Many companies expected that other credit organisations would lower their interest rates, following Vietcombank and BIDV. The foundation for rate cuts was supported by many macro factors, such as: inflation rose nearly 1 per cent in January, much lower than previous years. Moreover, the National Financial Supervisory Commission forecast that the country's inflation can be controlled at 8-9 per cent this year and around 6-7 per cent by 2013. If inflation can be reduced to one digit, it will be the solid foundation to carry out the government's policy to lower interest rates.
Thus, if banks cut their rates soon, businesses will have more chances to revive their operations. Not only interest cost decrease but firms will also easily access capital to expand their business.
Beside optimistic points of view, concerns that banks are still not able to reduce their rates immediately due to lingering tension inside the banking system, high inter-bank interest rates will remain. In addition, bank restructuring also prevents rates from lowering instantly.