Under the bilateral agreement with the U.S. on Viet Nam's accession to the WTO, foreign investors are now still limited at the ownership of 30% of a Vietnamese joint stock bank (JSB), said Deputy Governor of the State Bank of Viet Nam Phung Khac Ke.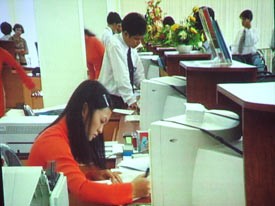 Foreign banks are limited to buy 20% of Vietnamese joint stock banks.
It was previously rumored that the rate would be increased to 49%. Deputy Governor Ke said, "Bank is a special kind of business so the control of foreign investors' ownership is essential."
However, strategic foreign investors can buy up to 20% from the previous 10% in the coming time.
The State Bank of Viet Nam is currently collecting opinions and working on a Decree on foreign credit organizations purchasing shares in Vietnamese banks. Accordingly, a foreign bank is limited to buy 20% of 30% foreign shares in Vietnamese JSBs.