East Asia Bank customers in Ho Chi Minh City are being warned of fraudsters' attempts to steal money from ATMs.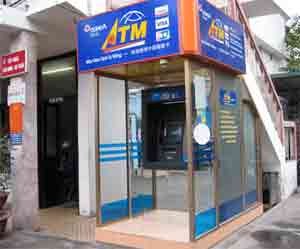 An ATM kiosk of East Asia Bank (Photo: tintuc.timnhanh.com)
A number of East Asia Bank's ATM kiosks in HCM City have recently been leafleted with bank promotions during December. Customers are advised to credit money into their accounts as instructed in the leaflets and will receive a bonus.

To join the promotion, a customer must have at least VND500,000 ($30) in his account and credit another VND500,000-2,000,000. The amount of bonus received will be equal to the credited amount.

After crediting the money, customers who wish to join the promotion are instructed to enter the numbers 01 02 03 6253 or 01 03 03 6253, which were actually the numbers of two accounts.

The promotion promises the customer that the bonus can be withdrawn 15 days later.

Mr. Tran Phuong Binh, general director of the East Asia Bank, has warned customers not to take part as the bank has not offered such promotions.

He warned that customers will lose their money if they credit the accounts.

He said that the bank will block the two accounts and work with the police to catch the culprits.