Commerzbank AG, Germany's second largest bank, officially opened its representative office yesterday in Viet Nam with a large reception in Ha Noi and another in Ho Chi Minh City.

One of the key functions of the new representative office will be to strengthen the relationship with Vietnamese financial institutions engaged in international banking.

As well, the office will provide support for the Vietnamese outlets of Commerzbank's German and international clientele while serving as a contact for government bodies in nearby and neighbouring countries like Cambodia and Laos.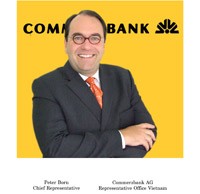 Mr.Born said a large busienss potential for us in one of the world's top exporting and importing nations
Commerzbank's first chief representative in Viet Nam, Peter Born, recently moved his family from Frankfurt to Ho Chi Minh City.

Mr. Born is looking forward to the new challenge. "With the new office in Ho Chi Minh City, Commerzbank will be able to offer its corporate and financial institutions on-the-spot support in a market that is amongst Asia's most dynamic." he explained, "I see a large business potential for us as a leading commercial and foreign trade bank in one of the world's top exporting and importing nations," .

Originally established in 1870, Commerzbank is one of the leading commercial banks in Germany and an integrated provider of universal financial services to private, corporate and institutional customers worldwide.

As a leading foreign trade bank in Germany, Commerzbank maintains excellent relationships to more than 6000 banks worldwide and intends to boost its ties to Vietnamese banks through the new office in Ho Chi Minh City.