The Prime Minister has decided to issue government bonds in US dollars in the domestic market to raise funds for key projects and compensate for the State's overspending.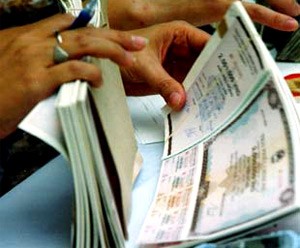 Government will issue bonds in US dollars
The Ministry of Finance will fix interest rates of bonds with a term of over one year after it consults with the Central Bank.
 
All organizations and individuals who reside and operate legally in Vietnam can buy the bonds.
 
The bonds will be issued through guarantee, auction or retail through the State treasury.
 
The bonds will be listed and traded at securities exchanges. Government bond owners are allowed to transfer, offer, inherit or use bonds to secure credit.
 
Though interest rates of the bonds will be lower than those of loans offered by commercial banks, many people will choose to buy them because of their security.
 
Government bonds have been issued to raise funds for the stimulus program. The Finance Ministry issued five-year government bonds in foreign currencies to raise funds for the country's key projects in 2003.
 
The Ministry usually issues government bonds in Vietnam dong and mostly sells them to financial institutions through auctions.
 
The Ministry had restricted the issue of government bonds in foreign currencies and selling them to individuals due to the high costs of insurance.
 
Dr.Le Xuan Nghia, vice chairman of the National Committee for Financial Supervision, said due to the economic recession, people do not spend much money and deposit it in banks instead, while companies hesitate to develop their businesses. Therefore, the government has to issue bonds to get funds to stimulate the economy.
 
As some people own a large amount of gold Dr. Nghia suggested the government should also issue gold bonds.