Ten institutions have officially agreed to invest a total of VND720 billion (US$45 million) in the newly launched Vietnam Blue-Chips Fund (VF4), to be managed by Viet Fund Management (VFM).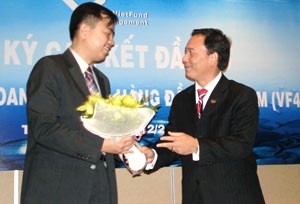 Tran Thien Ha (L), director of An Phat Securities Joint Stock Company, with Tran Thanh Tan, general director of VFM, after the signing of a deal to buy VND150 billion (US$9.3 million) worth of VF4 fund units
Contracts were signed on December 27 among the investors, including Sacombank Securities Company, HCM City Securities Company, HCM City Insurance Corp, TMMP Japan Vietnam and PG Bank, to acquire a stake in the fund.
Sales began on December 22 for this close-ended Blue-Chips Fund, which targets plans to raise VND1 trillion (US$62.5 million) in its first round, equal to 100 million units.
Each share has a face value of VND10,000 (US$0.62), with the price set at VND10,200 (US$0.63).
According to VFM representative Tran Thanh Tan, various institutions, local and foreign, are implementing procedures for investing in the fund.
He said overseas Vietnamese in Eastern Europe have showed interest in investing around VND300 billion (US$18.75 million).
VF4 plans to invest in leading companies in key industries including banking, telecommunications and real estate.
Tan said equitization of major State-owned enterprises in areas including aviation, banking and telecommunications was providing a once-in-a-life-time opportunity for investors.