Several commercial banks set a confident earning target this year in spite of financial experts' worries about a rough year for credit institutions.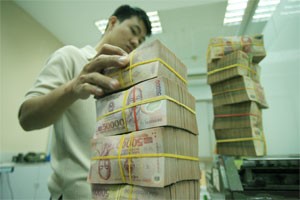 Financial experts are cautious on banks' high earning targets this year (Photo:Minh Tri)
Maritime Bank announced at the shareholder meeting that it targeted a profit of more than VND1.8 trillion (US$86 million) and an unchanged dividend rate of 17 percent this year.
The Hanoi–based bank last year made a pretax profit of VND1.49 trillion, and planed to raise its registered capital to VND8 trillion ($381 million).
However, analysts said the profit target of the lender remain low in term of the return-on-capital ratio.
Another Hanoi-based VPBank also set high earning targets this year, expecting the total asset and pretax profit to reach VND100 trillion and VND1.2 trillion respectively.
With a registered capital of VND5.2 trillion, the bank last year made a profit of VND2.4 trillion, a year-on-year increase of 55 percent.
Eximbank, Vietnam's eighth largest lender, expected to achieve a return rate of 26 percent at least this year, with a pretax profit of VND3 trillion. The HCMC-based bank has a registered capital of VND10.56 trillion.
Military Bank this year was very cautious in setting up earning targets and business plans due to "recent fluctuations on the monetary market", said Cao Thuy Nga, deputy director of the lender.
She said the bank targeted to make a growth rate of around 30-40 percent of last year's results. The Hanoi-based lender last year gained a pretax profit of VND2.1 trillion ($100 million), 24 percent higher than the target.
Pham Duy Hung, general director of VietABank, expected profits of the lender this year would likely to be double time higher than last year, equal to the increasing rate of its registered capital.
The registered capital of the HCMC-based lender last year increased to nearly VND3 trillion from VND1.6 trillion.
Hoang Van Toan, chairman of the TRUSTBank, said the bank would increase its registered capital by 40 percent in 2011. He also expected the pretax profit this year would surge by 98 percent of 2010's VND302 billion.
Do Minh Toan, vice chairman of DaiABank, set the earning target this year at the rate of four times higher than 2010. The bank has a registered capital of VND3.1 trillion.
Toan said the return-on-capital ratio of most of lenders this year remained low as they expected to raise the registered capital to VND3 trillion.
"Lenders are under pressures of the 15-20 percent increase in the employee payment and shareholders' requirement of dividend rates, which have to be higher than the interest rate," he said.
"Therefore, the banks have to set high earning targets in spite of the challenging time. Many lenders setting high targets had to lower the figure at the end of last year".
Analysts said commercial banks would struggle to meet up the target this year due to tight regulations on credit operations and a harsh competition.
"Profits from gold trading, credit cards and payment services remain low in 2011. Thus banks have to focus on lending, leaving them struggle to earn big profits," a financial expert.