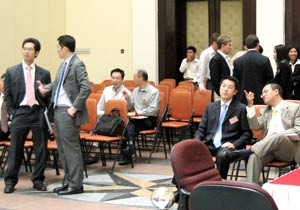 Fewer foreign investors invest to Viet Nam's financial market. (Photo: T.C)
The Mekong Enterprise Fund II (MEF II) has just finished the raising of US$ 50 million to invest into private joint-stock enterprises in Viet Nam.
It is the second fund of the equity investment firm Mekong Capital after its Mekong Enterprise Fund (MEF) founded in 2002 with US$ 18.5 million.
CEO of Mekong Capital, Chris Freund, said the MEF II will have similar goals to the MEF I. The fund, annually, will invest into 4-5 enterprises with US$ 3 million for each averagely. Beside the small investments with the holding of 20 – 30% stake in such enterprises, the fund will consider buyouts of private, equitized and foreign direct investment (FDI) companies in such fields as manufacturing, brand promotion and distribution.
It is known that key investors of the fund include Asian Development Bank (ADB), Nordic Development Fund (NDF), Swiss Investment Fund for Emerging Markets (SIFEM), Finnish Fund for Industrial Cooperation Ltd. (Finnfund), and the Belgian Investment Company for Developing Countries (BIO).
Related Articles:
Viet Nam Dragon Fund Buying in GIL and TMS
VinaCapital to Develop Prime Da Nang Site for Golf Course and Resort Complex
New Wave of Foreign Indirect Investment Flows into Viet Nam
ADB Pledges Assistance for Infrastructure, Vows Soft Loan Increases
ADB, Netherlands Formalize $14 million Grant for Mekong Environment Program
Related Links:
Mekong Capital
Asian Development Bank (ADB)
Nordic Development Fund (NDF)
Swiss Investment Fund for Emerging Markets (SIFEM)
Finnish Fund for Industrial Cooperation Ltd. (Finnfund)
Belgian Investment Company for Developing Countries (BIO)