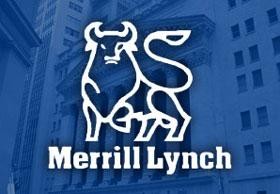 Merrill Lynch, a multinational corporation in financial services, has entered Viet Nam's stock market. (Photo: T.C)
According to the Viet Nam Securities Depository (VSD) and the State Securities Commission (SSC), the multinational financial services firm Merrill Lynch, a corporation oversees trillions of clients' assets in 40 countries, has received Viet Nam's trading code through its custody bank HSBC.
Currently, Merrill Lynch is in talks with Bao Viet Securities Company (BVSC) on the selecting of Bao Viet to be the official broker for Merrill Lynch in Viet Nam.
Although it is still undisclosed when Merrill will start and how big the size of its investment is, but the opening of trading account, application for trading code, and the choice of broker of Merrill Lynch shows that it is ready to enter the Viet Nam's stock market.
Therefore, after several mid-size investment institutions coming to Viet Nam, one of the most recognizable names in the financial services also participates. Previously, Merrill Lynch has unveiled a positive report on Viet Nam's investment potential, which surprised the international financial market.
Beside Merrill Lynch, many other investment institutions, especially investment funds from many countries have initiate their trading code applications through HSBC as part of their investment plan, according to VSD's official.
Some big funds such as Old Mutual Clay Finlay Emerging Markets Fund; Epoch Global Equity Shareholder Yield Fund, Bankinvest Emerging Markets Long-term Economic Investment Fund, Kitmc Worldwide Viet Nam Fund 1, etc. have received trading codes.
Related Articles:
ACB Seeks Permission to Float