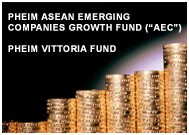 Pheim will go to Viet Nam's stock market.
Pheim Singapore (or Pheim Asset Management Pte. Ltd.), one of the most successful investment funds in South East Asia specializing in small and medium enterprises, has just unveiled its intention to invest in Viet Nam.
Pheim, with the size of US$ 700 billion, has been growing at 29% since the beginning of the year.
Pheim Singapore is one of the 3 members in the Pheim Asset Management Group besides Pheim Asset Management Sdn Bhd (Pheim Malaysia) and Pheim Unit Trusts Berhad (Pheim Unit Trusts).
Related Articles:
Merrill Lynch Enters the Viet Nam's Stock Market
PRUBF1 Fund Certificates Soon To Float
Foreign Investment Funds Boost Demand of Stock Market
VinaCapital To Buy 70% Stake In Hilton Ha Noi
Mekong Enterprise Fund II Raises Additional US$ 50 Million
US$100 Million Investment Fund Starts Operations
Related Link:
Pheim Singapore