Prime Minister Nguyen Tan Dung has instructed the Ministry of Finance to consider changes to corporate tax provisions to boost production and exports, reduce imports, and maintain policy lending.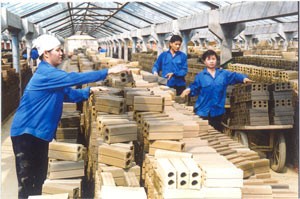 Making bricks at the Vien Chau factory in the northern province of Tuyen Quang (Photo: SGGP)
At a national financial conference in Ha Noi yesterday, he gave the green light to the tax breaks, saying "The Ministry of Finance needs to thoroughly consider tax incentives from next year."
 
Minister of Finance Vu Van Ninh said the Government has already reduced corporate income tax to 30 percent in the fourth quarter of this year.
 
The reduction will continue next year for companies in trouble, tax payment can be made over nine months rather than six, and value-added tax reimbursement will be made speedily.
 
The PM also said at the conference that the Government has instructed the ministry to arrange guarantees for small and medium-sized enterprises borrowing from banks, particularly the Vietnam Development Bank.
 
He stressed the need for having appropriate and flexible policies, with a focus on preventing an economic downturn.
 
The Government has called on the finance sector to quickly remove hurdles to production and business, promote consumer spending and effective investment, ensure social welfare, and mitigate poverty and hunger, he said.
 
He emphasized the role of the ministry in achieving next year's socioeconomic targets.
 
The ministry has pledged to scrupulously implement the Government's financial and monetary policies to ease difficulties facing production and export and maximize investment to ward off recession.
 
It would continue to earmark money for poverty, hunger and other social welfare programs, reform public administration, restructure State-owned enterprises and enhance their role, ensure thrift and savings, and fight corruption.
 
To stimulate consumer spending, Mr. Ninh said, he wants the ministry and National Assembly Standing Committee to consider deferring, waiving, or reducing income tax.
 
If it is not approved, the ministry would consider other technical measures, he said.
 
The ministry spent VND474.2 billion, an increase of 22.3 percent over the last year.