The State Bank of Viet Nam (SBV) cut the prime interest rate by 1 percent point Monday to 13 percent in an effort to encourage commercial banks to continue to reduce lending rates and lessen difficulties for capital-troubled companies.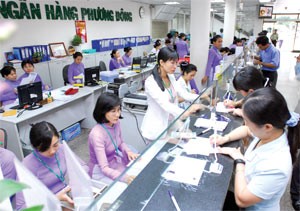 At an Orient Commercial Bank branch in HCMC (Photo: SGGP)
With the prime rate of 13 percent per annum, commercial banks can offer the highest lending rate of 19.5 percent per annum.
 
Effective today, the refinancing rate was decreased to 14 percent from 15 percent and the discount rate was cut by 1 percent point to 12 percent.

Overnight interest rates for electronic and compensation payments on the inter-bank market was down to 14 percent from 15 percent.
 
The central bank also doubled interest rates to 10 percent annually for compulsory commercial bank reserves and decided to pay off treasury notes worth VND20.3 trillion (US$1.22 billion) issued to banks since March 17.
 
State Bank Governor Nguyen Van Giau said the above-mentioned measures will ensure more capital and increase liquidity for credit institutions, and reduce lending rates. As a result local companies will have the opportunity to get bank loans to maintain businesses and promote investment and production.
 
Though many commercial banks cut lending rates when the State Bank raised the compulsory reserve rates early this month, these have still been high for most businesses.
 
The SBV's latest report says commercial banks currently offer interest rates of 19.12-20 percent per year on short-term loans, and 19.7-20.3 percent per year on medium-and long-terms.
 
Cao Sy Kiem, chairman of the Small- and Medium-Sized Enterprises Association, said the lending rates have to be reduced to 15 percent so that enterprises can stand on their feet.
 
Local companies have a high demand for money to buy materials and commodities for the upcoming lunar new year, and also get more business opportunities in year-end months. If the lending rates are so high, it will squeeze companies, and obstruct the country's economic development.
 
The decision to cut lending rates is aimed to curb inflation, limit negative impacts of the global financial crisis on the country's economy, stabilize the macro economy, and sustain economic growth.