Local producers have complained that lending rates offered by commercial banks are higher than in other Asian countries, weakening Vietnam's competitiveness at a time when demand from major markets is in decline because of widespread recession.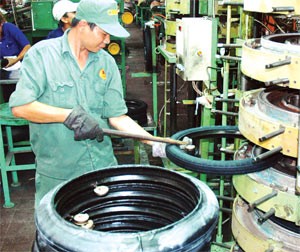 A worker makes tires at the Casumina factory in Ho Chi Minh City (Photo: SGGP)
In the past two months the central bank has cut the prime rate four times, reducing the official interest rate from 14 percent a year to 10 percent a year.
Based on the prime rate, banks are now able to charge a maximum loan interest rate of 15 percent a year.
 
Some enterprises are optimistic about the new prime rate of 10 percent, which will apply from tomorrow.
 
However, Tran Quoc Manh, general director of Sadaco and vice chairman of the Handicraft and Wood Industry Association of HCMC (HAWA), said the prime rate needed to be cut further so commercial banks could charge a maximum loan interest rate of 8-10 percent per year.
 
At present, woodwork enterprises can make a profit of only 10 percent or less of invested capital, while banks offer loans at 15 percent. If banks agreed to loan to them, they could not afford the interest, Manh said.
 
Le Van Tri, deputy general director of the Southern Rubber Industry Joint Stock Company (Casumina), said the rate of 15 percent was rather high for industrial producers. Tri also called for commercial bank interest rates of 10 percent, even though that would still be double the commercial loan interest rates in Thailand and Malaysia, as well as higher than loan rates in the US.
 
He said when the interest rates were high, producers had to increase product prices, making Vietnamese products less competitive. As a result, exports would probably fall, he said.
 
Tri said his company's revenue had slowed substantially over the course of the year. In the first six months, revenue was up by 30 percent over the same period last year. Over the first nine months of the year revenue was only 15 percent higher than the same period last year and is now lower than at the same time last year.
 
In order to maintain operations, Casumina had to reduce production, not because it didn't have orders or couldn't receive loans but because the loan interest rate was so high that production was no longer profitable, he added.
 
The end-of-year holidays are coming but most supermarkets are not stocking up for the holiday sales season.
 
"We can't borrow money from banks to store goods because their interest rates are much higher than the commissions offered by distributors," one supermarket director said.
 
Manh said many handicraft and woodwork firms were on the edge of bankruptcy. In order to survive, some were paying the high interest rates, but they were still having trouble accessing loans because banks were asking firms to provide collateral for loans.
 
Banks should extend credit to them based on their prestige rather than insist on security, he said. The government should also establish a fund for supporting small and medium enterprises, he said.
 
Bui Kien Thanh, a banking expert, said the government should support small and medium enterprises by offering them the lowest interest rates with simple loan procedures and conditions.