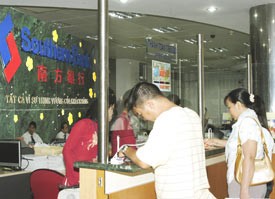 Southern Bank allowed to import gold helping to stabilize the domestic gold price. (Photo: T.M)
The Southern Joint-stock Commercial Bank (Southern Bank) has gotten a nod from the State Bank of Viet Nam (SBV) to import gold for its domestic business. The bank also sets to expand its scale of gold business at every branch in its network.
In response to the volatility of the gold price on the domestic and international markets, SBV has had a timely decision to ease the regulations on gold import and enabled gold trading enterprises to play more active roles.
Since the beginning of the year, SBV has allowed commercial banks to import gold in order to meet the demand of the domestic market for the whole year. Therefore, in the recent surge of gold price, gold businesses quickly imported more than 10 tons of gold.
Southern Bank has been developing gold trading services in order to bring the highest benefit possible to its customers and efficiency for its banking operation. As of the end of July 2006, Southern Bank had the total assets of roughly VND 8,500 billion.
Related Articles:
Gold Import Duty Cut
VCBS to Buy 1 Million Shares Of Southern Bank
SJC, Eximbank Seek to Cool Gold Fever