The State Bank of Vietnam reduced management interest rates starting March 18.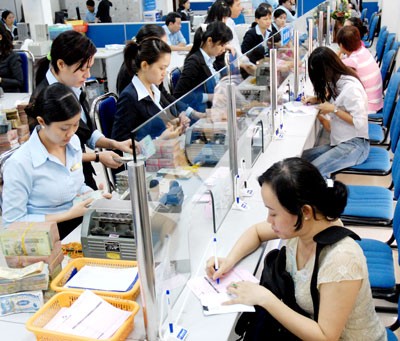 State Banks cut several interest rates on March 18 (Photo: SGGP)
Maximum interest rate for VND is decreased from 1.2 percent to 1 percent per year for less than one month term deposits, according to the bank. The rate for deposits of 1-6 month terms falls from 7 to 6 percent per year.

The reward interest rate for over a six-month term will be negotiated between credit institutions and customers based on supply and demand.

The interest rate for deposits of US dollars will remain unchanged at 0.25 percent per year for organizations and fall from 1.25 percent to 1 percent a year for individuals.

Refinance interest rate reduced from 7 percent to 6.5 percent, discount rate from 5 percent to 4.5 percent, and overnight rate from 8 percent to 7.5 percent.

Ceiling lending and reward interest rates dropped from 9 percent to 8 percent per year in agriculture and rural areas, exports, support industry, small and medium enterprises, and hi-tech applied companies.

The State Bank will set lending interest rate at 7 percent to rice-stockpiling businesses. The rate will be capped at 7 percent per year for short terms and 10-15 percent for medium and long terms in production association, hi-tech modes and farm produce export promotion fields.

The interest rate reduction is made in accordance with macroeconomic condition in the first quarter this year, liquidity of the banking system, and monetary market, said Nguyen Thi Hong, head of the Monetary Policy Department.

The first quarter's Consumer Price Index will slightly increase by 1.5 percent over the last year end, which is the lowest rate in recent years, according to the State Bank. Inflation rate is expected to be curbed at 7 percent this year.

The reward interest rate reduction will be the basis for credit institutions to reduce their lending interest rates, said Deputy Governor of the State Bank Nguyen Dong Tien.
Related article: